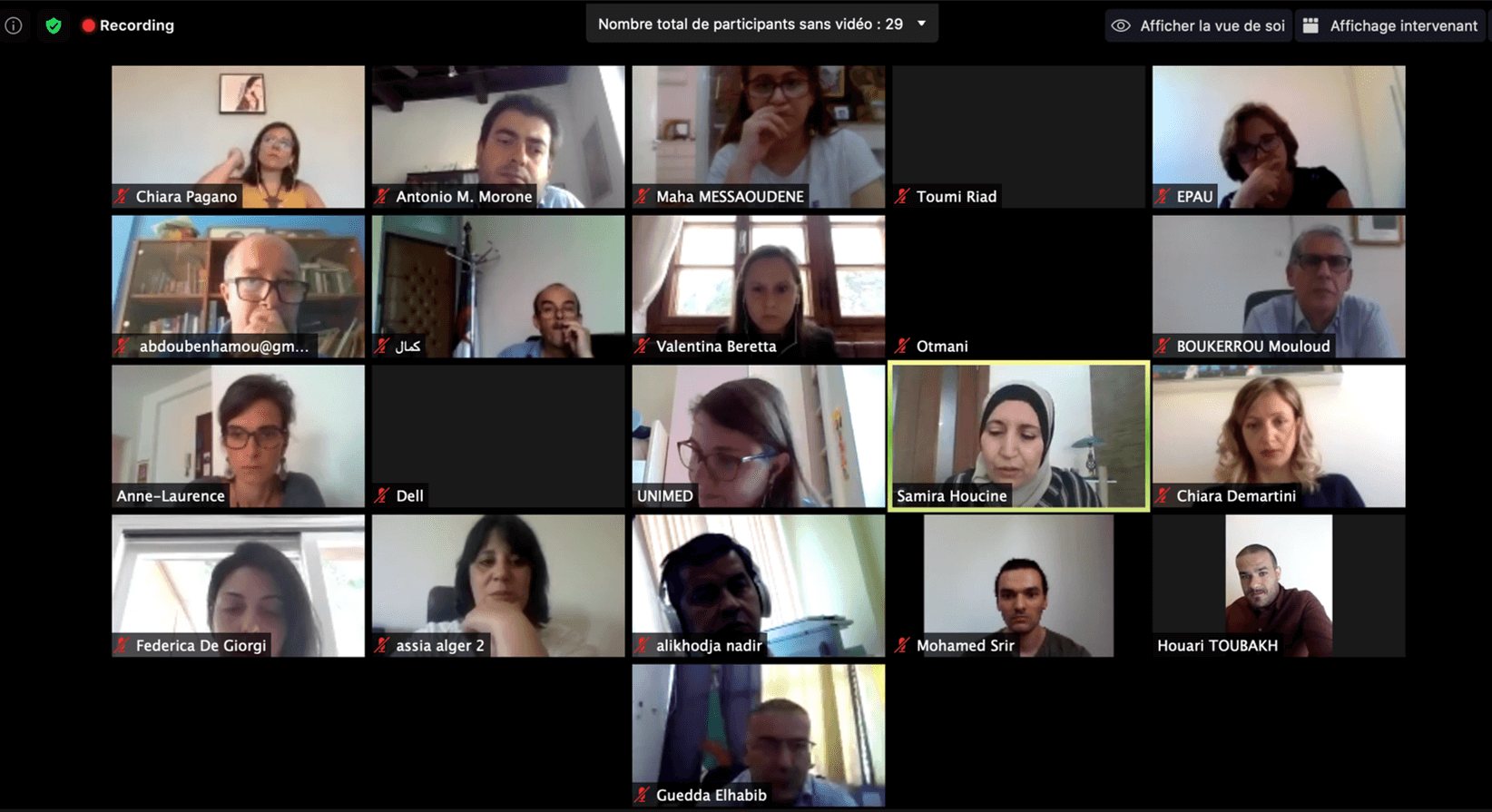 On June 21 and 22, 2020, UNIMED in collaboration with the University of Ouargla and the University of Pavia, organized a Virtual Consultative Workshop aimed at Algerian universities to define a shared action plan, leading to better university governance.
The event was attended by some 50 people from ESAGOV's partner institutions, including representatives of the Ministry of Higher Education and Scientific Research, rectors, vice-rectors, quality assurance officers and academic staff.
The main aim was to raise awareness among the Algerian university community of some of the challenges facing the ESAGOV project as part of the reform of the Algerian Ministry of Higher Education and Scientific Research, such as a "system of good governance" and "transparent evaluation", by assessing the way in which universities, and higher education establishments in general, define objectives, implement them, manage institutions and monitor results.
On the first day, the universities of Pavia and Ouargla presented a report focusing on the "production of action plans for the definition of a university strategic plan", based on the results of a survey of Algerian universities and the main findings of the focus groups held in Rouen in January 2020.
In particular, the survey raised key issues relating to the quality assurance and evaluation system (internal and external), the participation of the various stakeholders in the decision-making process (steering, transversal, thematic groups), concerning the University's autonomy and especially the dimension of financial autonomy. In addition, the ESAGOV partner institutions involved in the survey raised other critical issues relating to the lack of qualitative and quantitative monitoring and self-evaluation indicators.
The focus groups held in Rouen in January 2020 represented a physical platform to further discuss what was raised in the survey, and enabled the partners to collect good practices, identify tools and methods to overcome the challenges observed within the Algerian university system.
The second day of the consultative workshop, held virtually, was devoted to sharing and discussing each university's action plan and their relevant methodology for defining their own university strategic plan.
The debate resulted in a common roadmap with a shared vision of better university governance, necessary to define a new concept of university, a socially responsible university, linked to its socio-economic context, a more efficient, responsible and participative University.
The two-day virtual event was an excellent opportunity for all partners to exchange best practices.
All documents are available at the following links:
Consultative workshop on June 21st and 22nd, 2020