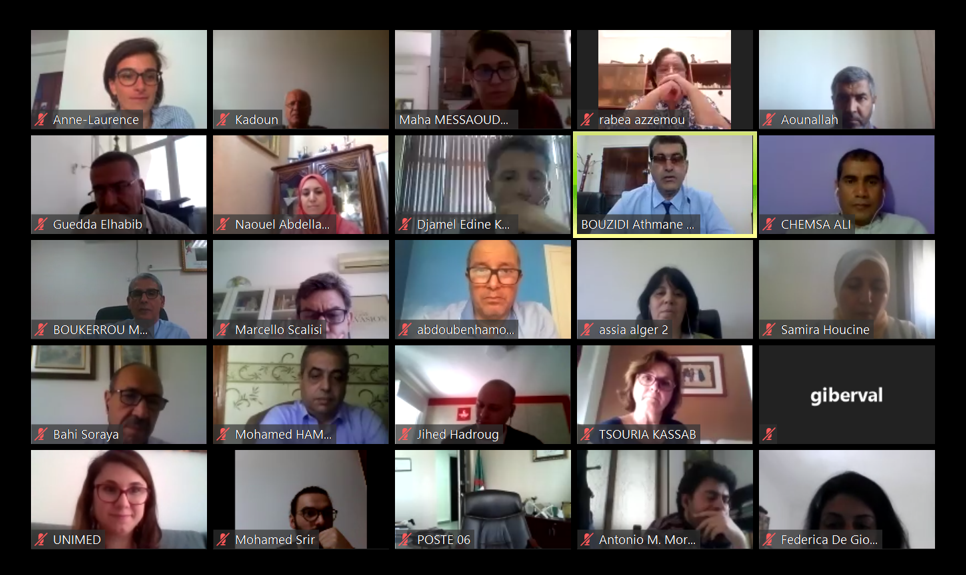 UNIMED is pleased to share the results of the 1st dissemination webinar held on May 6, 2020.
On this auspicious occasion, the University of Béjaïa and EPAU – Ecole Polytechnique d'Architecture et d'Urbanisme – shared with all partners their experience in organizing study days dedicated to quality assurance and the school project.
The aim of these study days was to raise awareness among the academic community (academic staff, administrative staff and students) of the issues involved in the quality approach and the construction of a establishment project, issues at the heart of the reform of the Algerian Ministry of Higher Education and Scientific Research and the ESAGOV project.
The University of Béjaïa and EPAU presented the chosen methodology, the information tools needed to ensure participation in these meetings, the way in which these days were organized, with round-table discussions and participative activities, and their evaluation. Both partners confirmed the importance of creating such training and discussion forums, and plan to organize further meetings to continue informing, raising awareness and involving the entire academic community.
All documents are available at the following links:
Establishment Project – University of Béjaïa
Le-projet-de-l-etablissement-Hamidouche-Mohamed-pp
Generalities and tools of Quality Assurance – Université de Béjaïa
Assurance-Qualite-Pr-Hamidouche
Presentation of the "open days" of the University Strategic Plan – EPAU
Journées portes ouvertes sur le Projet d'établissement